The Sony XM-GS4 deserves a deeper dive. I'm very surprised with Sony and pretty excited with the quality iv'e been seeing from them. So far we've installed 3 of these amps for a couple of Sony fans that we've been working with for years! After sitting in the vehicle with all of the doors closed and tuning this amp I felt that this unit deserved an official Sony XM-GS4 Review.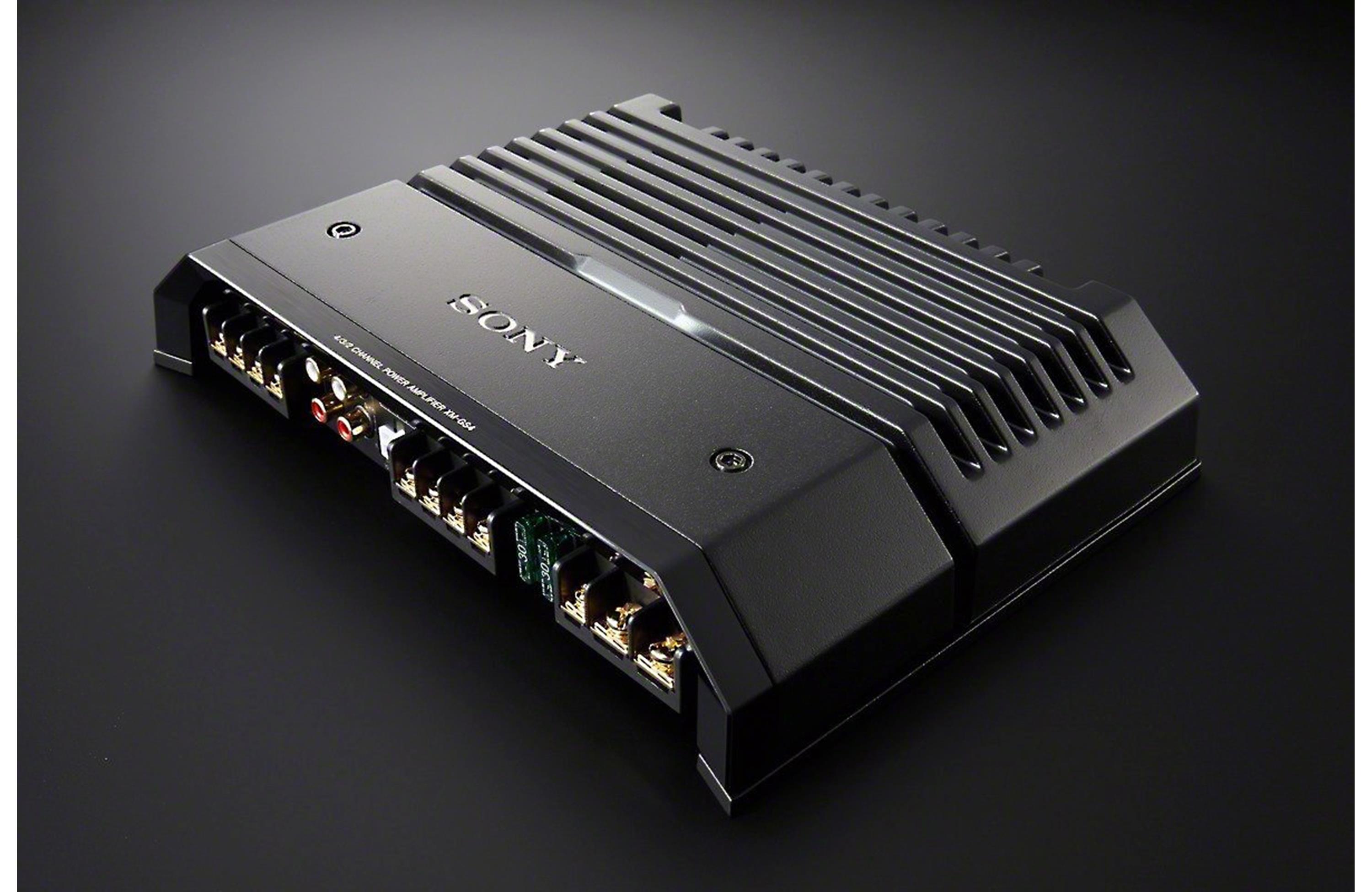 Lets Dive In
The frequency response of this XM-GS4 can extend from 10Hz to 100,000Hz, with this extended response you can enjoy the full-range of high-resolution scores.
The XM-GS4 is capable of driving your whole music experience by itself, by sending 70 watts RMS to each of your speakers.
You can even switch the amplifier to a 2-channel mode and power a couple of subs with 160 watts RMS. Aided with a well-equipped heat sink, the amplifier will itself get rid of all the heat when you are pushing it to its limits.
Apart from the heat sink, it also consists of a cooling fan to cool itself.
Sony XM-GS4 Review – Should You Buy?
The amplifier can easily reproduce frequencies up to 100,000 Hz, hence all your high-resolution files can now come to life with the utmost clarity.
Although these high tones cannot be heard normally because they are a bit passed the human ears spectrum of hearing. However they are strong enough to add to your music ambiance and increase the realism when you listen to it.
XM-GS4 will work at its best in conjunction with Sony's RSX-GS9 digital media receiver or Sony's XS-GS1 super tweeters. However, this amplifier can even be added into a factory system or into a system of another brand.
The best part of the amplifier is that all the connections are available in one side of the amplifier for ease of installation. There are separate controls for both the front and rear channels which obviously increases the versatility of this product.
The XM-GS4 is designed in such a way that it will never leave your music entirely in the hands of your head unit. But with its varied and extensive set of controls, you can well balance and shape the signals of various channels.
You can also duplicate setting for both front and rear outputs.
The bass boost control can add up to 10 decibels at 40 Hz and when coupled with a subsonic filter you can get settings from 70 Hz to 6 Hz.
Consists of MOSFET, the metal-oxide-semiconductor-field-effect transistor which is specifically engineered to deliver high output from a low current input. With this technology, the amplifier circuits respond very quickly and efficiently.
Equipped with a 3-Way Protection circuit, which will sense the internal temperature and automatically lower the input level to prevent any damage because of heat.
The short circuit protection will prevent the amplifier from damage when speaker leads are shorted, and the overload protection prevents will contain the damage from low impedance or blown woofers.
The speaker level inputs present in the XM-GS4 allow you to connect it to stereo systems that do not have RCA outputs.
Aided with variable Low Pass filters that allow you to adjust the playback frequencies from 50Hz to 300Hz at 12dB per octave and a variable high pass filter with which you can adjust the playback frequency from 50 Hz to 300 Hz at 12dB per octave.
It features all gold-plated connectors, which includes: power/ground terminals, remote terminal, speaker-level input harness and speaker outputs.
All controls of the amplifier are located at the top, hidden under a removable cover wich helps with wire management to give that clean look!
The controls include a rotary dial level control, a crossover which can be set to high pass, low pass or off, which is the full range, all with the help of a 3-way switch, a sub-sonic filter and a low boost circuitry which increases the bass response.
This dedicated control section provides you with the ability to manually adjust all the aspects of your in-car sound system such as its resistance and the level of power flowing through each individual component.
All the components of the XM-GS4 are not only very reliable but also noise-resistant and tend to minimize any unwanted distortion.
The product is CEA-2006 certified, which implies that the power ratings of the Sony XM-GS4 are measured according to the standards set by the Consumer Electronics Association (CEA) standards.
Installation & Manual
Aside from the included Instruction manual, we created a guide to installing Car amplifiers for seasoned vets and beginner level DIY techs!
The step-by-step instruction guide provided with the unit is easy to understand and with its help, you can easily install the whole unit effortlessly.
The whole amplifier is encased in a very heavy ribbed aluminium enclosure and the whole unit can be easily screwed down to a mounting surface.
The heavy-duty body also protects it from external vibrations, and deliver jitter-free sound. There is an aluminium cowling screw present, which will be placed onto the unit to cover the trim controls, once you are done with setting it up.
Since all the connections to the amplifier are present only on one side, along with its two fuses, it is very convenient to replace them when needed.
Features & Specs
High-resolution audio compatible
700 Watts Max Power
Pulse Width Modulated MOSFET Power supply
CEA-2006 Compliant amplifier for true power output
Removable top cover to reveal all controls
Bridge mode with which you can run this as a three channel or two-channel amplifier
4 channel RCA
4 channel speaker level inputs
Dual Bass boost controls: 0-10dB at 40Hz (Channels 1-2) and (Channels 3-4)
Dual variable subsonic filters: 0-12dB at 6Hz – 70 Hz (Channels 1-2) and (Channels 3-4)
Gold plated terminals for all connections to prevent corrosion
Frequency Response: 10Hz to 100KHz
Cooling fan
100dB Signal to noise ratio
Total harmonic distortion at 1KHz is 0.05%
Dimensions: 10-3/4 (w) x 2-1/8 (h) x 8 (d) inches
Weight: 5.95lbs
Package Contains – Unboxing
4-channel amplifier
Two 30A ATO Fuses
4 Self-tapping screws
4.75" Speaker level input harness
Operating instructions
European guarantee information document
This audiophile the XM-GS4 amplifier is only a part of Sony's high efficient High Resolution Audio System and when you allow it to work with other advanced receivers, amplifiers, and speakers from Sony, all of them are optimized to provide you really high resolution performance.
Hence for any car music enthusiast, the Sony XM-GS4 with high-resolution audio, good configurations and plenty of power all of this coupled with a reasonable value is definitely a must-have.