Kenwood KAC-M1824BT Review – Getting the right amplifier for a vehicle can sometimes be challenging. You might have limited space in your boat, UTV or motorcycle or you may need a simple yet functional audio system that withstands environmental elements. You might want to enjoy the ability to stream your favorite music from your device to your old radio in the vehicle.
In these situations, a great amplifier like the Kenwood KAC-M1824BT 4-channel amp would work the best. It provides four different channels of clean amplification power and numerous exciting features to let you enjoy music in your vehicle without any space problems.
In this Kenwood KAC-M1824BT Review, we will go into detail about the features and performance of this marine amplifier to help you decide if it is the right choice for you.
Kenwood KAC-M1824BT Review – UPDATED 2019
Built to pump up any vehicle's audio system, the Kenwood KAC-M1824BT 4-channel amplifier comes with 45watts RMS per channel and adds a lot of impact and clarity to the basic sound system of any vehicle on land or water. With a compact construction, it fits conveniently in tight spaces as well.
IPX5 Remote control
One of this amplifiers unique capabilities is that it can be installed into a vehicle with or without a stereo. The remote doubles as a sound receiver via bluetooth and sends sound into the amplifier in order to eliminate the need for a stereo. This is something that we see owners of classic cars take advantage of in order to keep the factory look and feel of their classic cars.
This remote control really makes it easy to fully control your sound system. You can pause, play, change tracks, rewind and fully control your volume easily and its water resistant.
kenwood kac-m1824bt bluetooth pairing
Remember, your bluetooth remote will only work when it is your source of audio. This means that if you have your radio's sound going into your amplifier the remote will not work.
Start by turning on your phones bluetooth
turn on your phones bluetooth scanning function
Press the big round button on your Kenwood remote labeled "SRC"
The light will begin to blink with a blue color indicating Bluetooth
When you see "kenwood kac-m1824bt" pop up on your phones available devices to pair to click it.
When pairing is complete the remote will know longer blink blue, it will stay a solid blue.
Helpful Information
We took out some time to link to some helpful resources for this review. It definitely helps to have the fundamentals down.
Specifications
RMS Power Output – 45 x 4 or 90w x 2
Frequency Response – 20-20k Hz
Signal to Noise Ratio – 90dB
Dimensions – 5 11/16"W x 1 ¾"H x 3 7/8"D
Input Voltage – 14.4V
(4ohm or 2ohm stable) will not do 2ohm bridged
Hi and lo Level Input opportunities
Design and Installation
The Kenwood KAC-M1824BT amplifier has an impressive finish and compact size. The build quality is excellent. Connectors are protected against dirt, salt and moisture by plastic covers that can be removed when necessary. All the parts are lined up right into a tiny package that can be installed anywhere. The unit is assembled professionally and compactly. The wiring harness connector offers wiring outputs for power, speakers and remote.
The left of the unit has a USB charging jack that allows charging the phone while playing music. Wired remote connector, RCA jacks and audio controls are present on one end while the other end has a harness for inputs and outputs. End caps are also included to protect unused connectors from water and debris. This marine amplifier is built to be durable to withstand extreme environments and suit boats and outdoor vehicles.
Kenwood has equipped this amplifier with a cool design that makes it really easy to install and enjoy music. There is no need to install a head unit along with an amplifier to get more powerful and louder sound. And you need not deal with the old factory stereo. You can use its Bluetooth connection to play your favorite music from your device. The amp allows enjoying music in one of the three ways depending on your installation and requirements:
Connect to Bluetooth from any device
Connect to factory or aftermarket stereo using speaker-level inputs
Connect to aftermarket stereo with RCA cables
You need not install a stereo to listen to your favorite tunes. It allows using your smart phone as a music source.
Features
Conformal Coating
Conformal Coating is an epoxy that is layered over the circuit board of the amplifier that helps with vibration issues. On standard amplifiers if you vibrate them too much parts will break off. This system helps to remedy that pretty well i might add. This makes it perfect for motorcycles, boats and ATV's.
Integrated Bluetooth
The built-in Bluetooth wireless technology allows using a Bluetooth-enabled music player or smartphone as the primary listening source, making this amp perfect for a sound system in ATV, car or motorcycle.
A wired controller lets you adjust the volume and change tracks. Not only can you stream all the music files from your smartphone but also choose from Spotify, Pandora or YouTube.
IPX5 Remote Control
The remote control included with this amp is designed to be used in places exposed to elements with the IPX5 certification. It is a water-resistant compliance which makes the remote control ideal for use in boats, ATV and motorcycles.
Class-D Technology
The Kenwood KAC-M1824BT amplifier uses a class-D technology that is a modern high-speed switching approach meant to increase efficiency. This is why the amp uses lesser electrical current and produces much less heat.
Multi-Application
A lot of today's vehicles offer limited space and harsh environment for electronic equipment as they are exposed to outdoor conditions.
Kenwood's compact amplifier is so small in size that it can fit the most limited spaces. Moreover, it uses a conformal coated PCB to offer additional protection against damp air and moisture which can cause damage.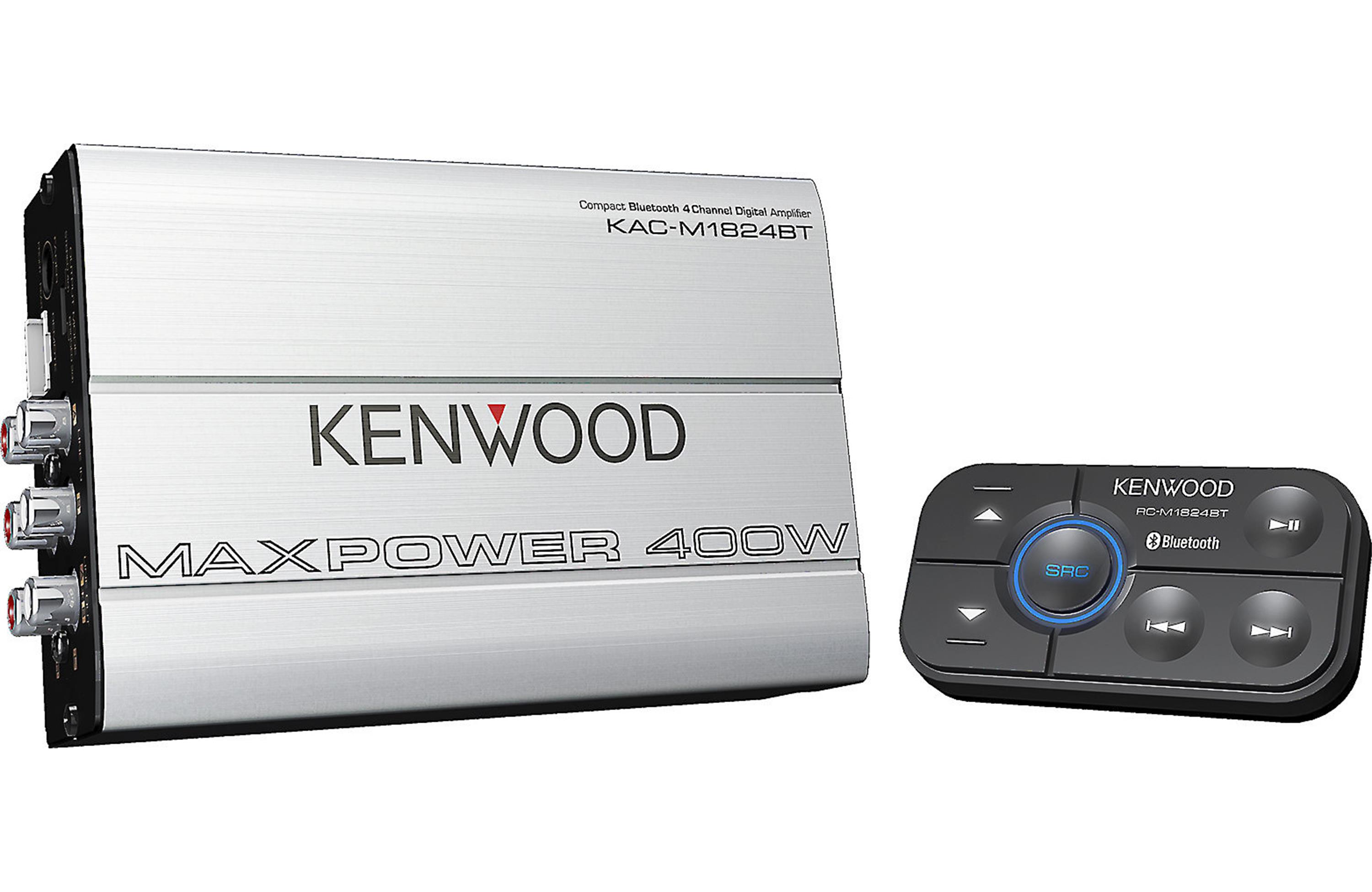 Sound Quality
The specifications of this Kenwood amp suggest a signal-to-noise ratio of 90dB which means the noise level will be pretty low when you use the speakers at medium to high volumes. The natural sound produced by the amp is quite impressive. The amp is also able to produce tight, balanced bass and the volume limits are high. The overall quality of sound it delivers is better than what one would expect seeing it.
The Bluetooth controls are simple and it is easy to switch between smartphone and stereo inputs. The USB port also charges your smartphone while you enjoy your favorite music streaming from the device. The amplifier meets all the specifications and performs as expected.
What's In the Box
Bluetooth 4-Channel Amplifier
Wiring harness
Remote unit mounting bracket
Remote control
Self-tapping screws
Plastic wire ties
Protective cover for controls
Dual-sided adhesive tape
Warranty card/user manual
Conclusion
This mini marine amplifier is perfect for any power sport or standard vehicle installation. We have been able to mount it almost anywhere because of its size and mounting accessories. You can use Hi level or Lo level inputs for sound. We also have been able to make magic happen with its supplied wiring harness.
The Kenwood KAC-M1824BT amplifier is a great option for any Powersports vehicle, car or motorcycle. With low current demands and impressive thermal management, the amp is really easy to use and install.
It is certainly an affordable solution for those who would like to take their tunes wherever they go.