Viper 5906V Review – The Viper 5906V is one of the best products in the line of remote start alarm systems available from Viper. Viper is itself a well-known brand when it comes to car security and automatic remote car starter systems.
The Viper 5906V features a 2-way OLED display remote and also a 1-way back-up remote. The OLED remote consists of an upgraded user interface, a USB-mini charging port, and even a menu wheel.
A Vehicle Security King In Its Own Right
The range of this system is up to 1-mile, and it is also compatible with SmartStart technology. With the SmartStart technology of Viper can be directly plugged into your car's electrical wiring, which can then be controlled by an app installed in your smartphone.
It also gives you the ability to connect to the internet, and when done so, you can easily use your smartphone as a remote for your car literally from anywhere where a cellular connection is available. The SmartStart GPS module also gives you the ability to track down your vehicle with the app in case of a robbery.
The system consists of a handy remote start system and provides keyless entry to your car. The Viper 5906V comes with a built-in information center.
This information center includes all sorts of info of the entire system such as the remote start timer countdown, this informs you for how long your car engine will be running and also the interior temperature of the car.
Check Prices On This Viper Alarm/Remote Start System Here!
You can then change the temperature according to your liking before boarding your car.
The same system will also inform you about the countdown and parking meter timers. The same will send you a warning signal after every 15 minutes, 5 minutes and even at meter expiration, hence you can easily avoid those pesky pink slips being generated.
You can also pair this device to your second vehicle. You can also switch both your vehicles on the fly using this same remote.
When changing remotes, the HD system of the responder will automatically check your vehicle's availability, and if the car is not available, it will inform you about it.
Menu's, Commands & Functionality
The remote consists of 4 command buttons divided into two categories basic and advanced. The basic command function control consists of the most frequently used security and remote start features. Whereas the advanced command controls certain specialized features on your request. 
You can also customize all these features and functions of the HD remote through its settings, options, and adjustments menu.
The Settings menu consists of; button auto lock, alert types, animations, button beeps, paging, and temp units.
The Adjustments menu consists of; clock settings, timer start, quick start, remote pair, and sensor adjust.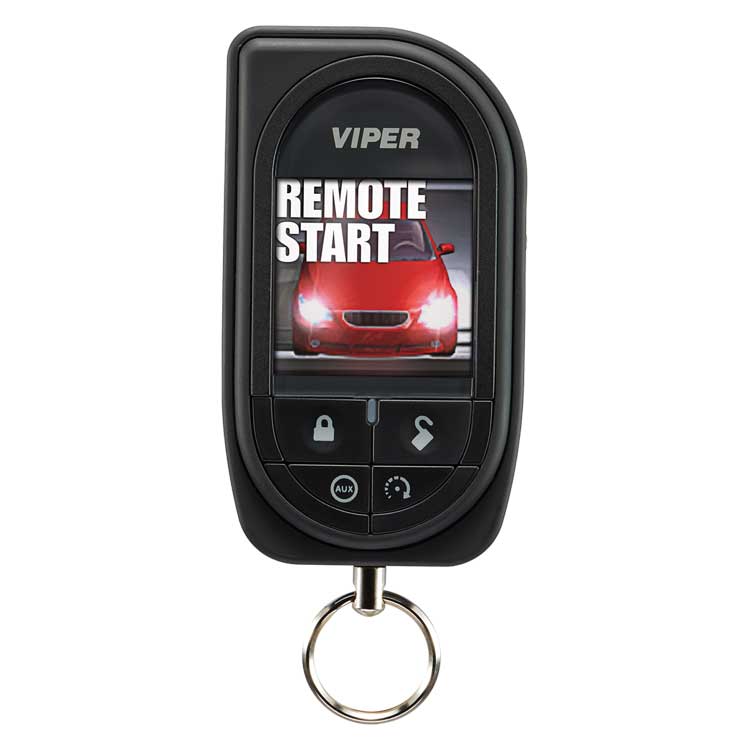 And the Options menu consists of; power off, parking meter, countdown timer, name tags, demo mode, and level 5 screen.
The last menu that will be displayed on the screen is the Exit menu, and its only function is to exit from other menus.
The Viper 5906V comes with a built-in remote start system which has a shock sensor also. The purpose of this shock sensor is to detect any intrusion attempts on your vehicle. You can customize the sensitivity of this sensor and optimize it to your vehicle's detection levels without generating any false alarms.
Remember all remote starters on a manual transmission vehicle operate differently when compared to those with automatic transmission because in case of manual transmission you have to leave your car in neutral.
Battery Backup & Efficiency
This unit comprises of many features and because of these features the Responder HD remote control is one of the most unique remote controls, currently available in the market.
Hence, an efficient battery charge system is the backbone of this entire set-up and to maximize the duration between two charges, the following steps should be taken:
Turn off the remote when not in use
Set the animations settings to trigger only
Turn the paging feature off (but remember when done so, the remote will stop receiving trigger messages from your system)
Turn off the beeps
Viper 5906V Specifications
Comes with a New Priority user interface (with the 2-car operation)
Virtual Tach with RPM sensing
Car finder
5 Aux outputs including a boot pop
D2D serial data interface for the Xpresskit serial data interface modules
Flex relays which enable the remote start & light flash
Consists of manual transmission mode
Comes with other advanced remote start function such as Timer Start, RunTime Reset, and Smart Start
1502T Data Siren
DoubleGuard remote adjustable shock sensor
Progressive door trigger
Ports for optional sensors
Keyless entry
Silent
4 auxiliary channels
900-928 MHz spread spectrum frequency & 900 MHz for 1-way SST remote control
The siren output of the system: 120 Db at 1 meter
Weight: 2.9 pounds
Features
The 2-way color OLED remote
1-way back-up 5 button remote
Keyless entry
Compatible with a huge range of other Viper SmartStart products
1-mile range coverage
Remote start
Trunk pop feature
Dome-light supervision
SuperCode Encryption
Equipped with Stringer Double-Guard shock sensor
Consists of failsafe starter kill
Installation
Installation should be completed by a certified professional. There are a few reasons why we say this. The first being the issues that can come about if its not installed properly such as electric shocks, airbag deployment and electrical fires.
The second issue that can happen is irreversible electrical damage. I've seen installation attempts made by back yard mechanics without an understanding of a vehicle's electrical system lead to an expensive tow to a shop because the vehicle computer was fried.
Pros
The package is exclusive of SmartStart module; hence you have to purchase it separately
Excellent design and robust build quality
Equipped with the latest security features
A customized OLED display remote
Cons