Alpine SWR-T10 Review – The story goes; A man buys a truck and the trucks audio system is terrible. The man wakes up and decides to go to a neighborhood audio shop to find out his options. He sees the subwoofer boxes on the sales floor and says to himself "That box would never fit".
If any of you know this man, buy him a beer and tell him about the Alpine SWR-T10!
Alpine SWR-T10 Review – Smaller Than The Original Type R But Stronger!
The solution comes in the form of a space-saving subwoofer known as a shallow mount subwoofer that doesn't shatter the windows with bass but provides some really rich and deep bass beats added your car's music. Don't get me wrong, If you fully power this guy with the recommended 600 Watts RMS you'll turn heads!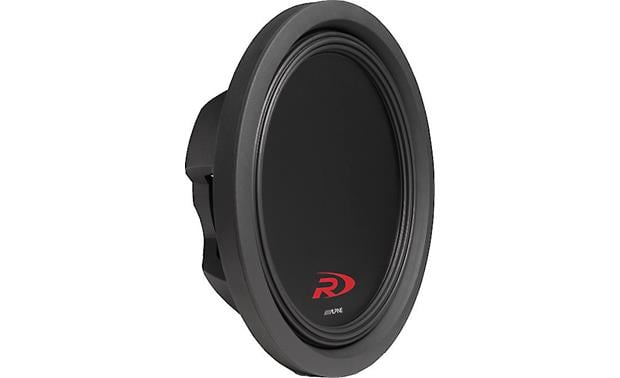 Alpine, one of the best manufacturers of car speakers and components, has come up with such a subwoofer loaded with all the features a music enthusiast would want in a car subwoofer.
The Alpine SWR-T10 combines low-profile design with high-power handling capability to deliver powerful bass in hard-to-fit spaces inside your vehicles. In this post, let us dive deeper into the product's features and offerings to find out what you can expect from it.
Alpine SWR-T10 Review
The Alpine SWR-T10 is a high-end subwoofer with power handling as its main feature.
It offers better and louder sound than other similar models, particularly those in the same price range because Alpine uses only the highest-quality components in developing their subwoofers.
This is why you can expect clear, distortion-free sound with the SWR-T10. If you like playing loud music, this subwoofer is a great choice because high volumes are not an issue for this model.
What You'll Need
As with all subwoofer installations you'll need a few things, I took the time out to remember the parts we normally use for this subwoofer. Keep in mind this is a single voice coil sub with a 4 ohm impedance, it also needs 600 watts.
To be honest, some of these products might be a bit expensive. We get it! The Alpine Type R line up is considered premium so what you put into it is what youll get out of it.
You'll notice the wiring kit is a 4 gauge OFC which is a high grade wiring. I recommend this to customers so they don't need to upgrade the wiring or run in to wiring issues in the future.
The amplifier I recommend is the same model I've just started to install with this sub lately and has enough power to run 2 of these subwoofer if needed.
However, if you are only planning to keep one thats okay because the amplifier only doubles the power when the impedance (ohms) drop to 2 ohms. This will only happen when you install an additional 4 ohm single voice coil i.e another Alpine SWR-T10.
Specifications
Impedance – 4 ohms (single voice coil)
Frequency Response – 28-200Hz
Sensitivity – 83dB at 1 watt
Peak Power Handling – 1800watts Max RMS Power Handling – 600watts
Alpine SWR-T10 Features
Type-R Thin Subwoofer
Belonging to the Type-R thin series that brings together power handling and the low-bass frequency handling performance of the traditional subwoofers in a thin unit designed for small-spaces. This is a huge contender for trucks and hatch backs!
The Alpine SWR-T10 includes 7 unique technologies in the compact design and enables it to provide more output than the traditional syle 10 inch Type-R with just half the depth.
Heavy-Duty Cone Material
The heavy-duty magnet assembly of the subwoofer demands high-quality cone material like aluminium cone.
This cone features injection-molded force transfer assembly to give the structure excellent stiffness while reducing moving mass.
Segmented Spider Design
One can certainly rely on this subwoofer to deliver impactful output similar to traditional Type-R models due to the unique Segmented Spider Design that allows the sub to perform differently.
While a majority of shallow-mount subwoofers have lesser output, the SWR-T10 uses a unique technology to completely allow it to pass through the motor structure, delivering massive output even in a shallow frame.
High Peak Power
The Alpine SWR-T10 comes with 3000 of peak power, making it one of the best car subwoofers available at this price. It can deliver a loud sound that is just unbeatable. Other subwoofers delivering such power can cost twice as much as this one.
Large Dimensions
This subwoofer measures 10.7 x 5.9 x 6.9 inches, meaning it is one of the bigger units and it also weighs 22.4 pounds. These dimensions mean you get a professional-quality subwoofer that suits most applications.
Whether you are a newbie interested in adding subwoofer to the car or a car enthusiast looking for the best subwoofer, the Alpine SWR-T10 is the best choice.
Power Handling
The dynamic neodymium structure allows this subwoofer to handle more power than a traditional shallow-mount sub. It handles up to 600 watts RMS power to provide tremendous thump.
The aluminium cone works with multi-roll Santoprene surround to deliver a performance that is sure to stun you.
It features a heat sink coupled with the frame for direct heat dissipation to keep the subwoofer cool all the time.
Type-R thin subwoofers are ideal for applications with restricted space like compact cars and pickup trucks.
The FEA Optimized Double-Sided CRC Motor Structure generates a symmetric magnetic field featuring evenly spread flux density to reduce distortion with improved power handling as well as output.
The patented heat sink and airflow management system reduces power compression to ensure reliable playing time.
The latest cast aluminium frame couples with the machined aluminium assembly creating a heat sink that delivers sustained power handling in the most extreme conditions.
You need not play the subwoofer for hours to get consistent performance. It is made to provide consistent performance as soon as you install it. The spider design needs no break-in to be able to achieve perfect performance.